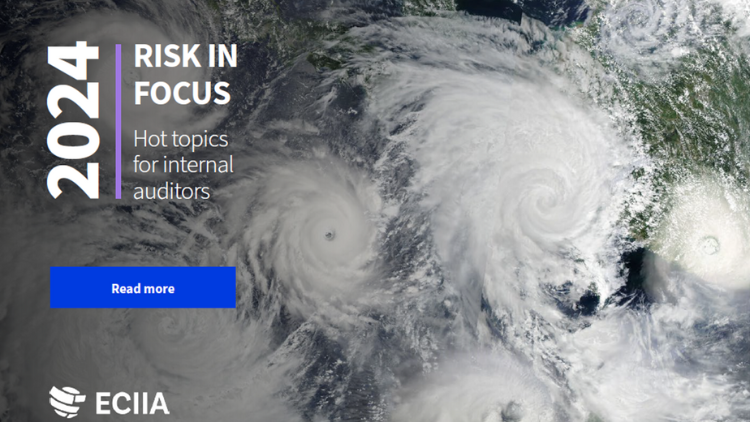 A major research report has revealed a looming poly-crisis as a series of high-impact risk events are occurring simultaneously and exacerbating a multitude of interconnected risks. This includes ongoing economic uncertainty, the cost-of-living crisis, the Ukraine crisis and growing geopolitical turmoil, labour shortages, along with extreme weather events fuelled by the climate crisis. These are the findings revealed in the Chartered Institute of Internal Auditors' annual Risk in Focus report produced in partnership with 15 European Institutes of Internal Auditors. Risk in Focus 2024, published today, is the result of a survey of over 700 Chief Internal Auditors across Europe on the risks their businesses are expecting to face in the year ahead. The report calls on boards to collaborate with internal auditors to navigate the poly-crisis by having an unwavering focus on organisational resilience and working together to respond rapidly to the myriad of immediate and fast-moving risks businesses now face.
The headline research findings include:
As organizations continue to grapple with an increasingly weaponized cyber-attack landscape cybersecurity is the biggest persistent threat according to our research. 84% of respondents voted cybersecurity as the number one risk for the sixth year in a row. This is no surprise given recent high-profile cyber incidents, including the ransomware attack that impacted the payroll software provider of several well-known companies, coupled with an increase in so-called "wiper attacks" from state-sponsored actors.
Off the back of the pandemic, organizations are continuing to face a human resources crisis, with 58% voting human capital, diversity, and talent management a top risk, making it the second biggest risk. This reflects ongoing labor shortages in key sectors of the economy, as businesses struggle to fill vacant positions and retain talent.
Set against a fragile economic backdrop of stubbornly high inflation and rising interest rates, coupled with the War in Ukraine and rising geopolitical tensions, 43% cite macroeconomic and geopolitical uncertainty as a top risk.
With the poly-crisis stress testing business continuity plans, 35% cite business continuity, operational resilience, crisis management and disasters response as a top risk.
As high-speed technological developments like Artificial Intelligence pose a new and emerging threat, a third (33%) cite digital disruption and new technology as a top risk, although this is forecast to rise to 50% in three years' time.
With two of the hottest European summers on record and climate-related disasters happening around the world, almost a third (31%) cite climate change as a top risk. However, this is set to rise further still to over half (53%) in just three years' time.
Risk in Focus 2024 makes several recommendations to boards and their internal audit functions on how to navigate the poly-crisis:
Boards and their internal auditors should work together to build greater organizational resilience. This should include testing risk and mitigation strategies using scenario run-through exercises to identify inter-related risks that could otherwise remain hidden.
Boards should ensure their internal auditors evaluate the organization's cybersecurity awareness and training programmes and assess whether those are effective.
Boards should ask their internal auditors whether the assumptions made on financial stress testing align with reality and whether economic scenario planning and simulation exercises are awake to emerging risks.
Boards should harness the skills of their internal auditors to assess whether the organization's values and objectives align and are clearly communicated within and outside the business to engage with potential and existing talent.
Boards should ask their internal auditors to assess whether environmental sustainability goals are aligned with business strategy and have clear metrics.
Anne Kiem OBE, Chief Executive of the Chartered Institute of Internal Auditors said: "Our Risk in Focus research highlights the significant challenges businesses are facing given the velocity and variety of interconnected risks. With the economy still in a fragile state, Boards will be focussed on the increased climate-related pressures, geopolitical uncertainties, a dangerous cyber-risk landscape, inflationary pressures, and attracting and retaining the skills and talent needed to navigate more risky and volatile times ahead. In these unique and challenging times Boards and their internal auditors will need to respond rapidly to immediate, fast-moving threats and have an unwavering focus on resilience."
The full report is available below.